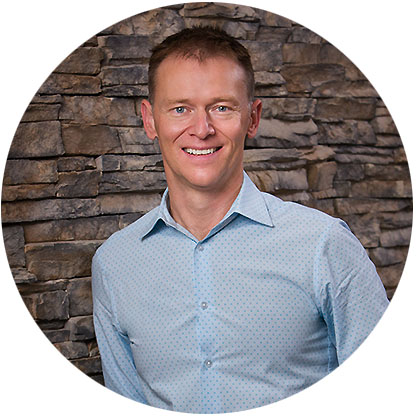 Dr. Ian McKee
Greetings! Let me tell you a little bit about me, I was born in London, England but my parents made a transformational decision to throw in the urban existence and we emigrated to rural Alberta when I was 8 years old. I grew up on a cattle and grain farm in the Red Deer area. Some of my fondest memories of my upbringing were the wonderful freedoms that come with growing up with space; dirt biking, sledding, herding cattle on horseback to name a few.
Following completion of high school, I attended a year at Red Deer College before heading to the University of Alberta to complete a Science degree. Like many who enter University, I was not at all certain what I wanted to be when I grew up, so my degree and studies were interrupted with a one-year travel experience. I headed out with high school friends and we camped and travelled on bicycles through Switzerland, Italy, Yugoslavia (Yes, I have just dated myself as the areas are now called Croatia), and Greece. I was also very fortunate to explore large parts of Egypt, Turkey, and Cyprus before returning to the U.K. and working with both a cycle courier company and catering company. School and further studies were calling, and I returned to the University of Alberta to complete my science degree and begin my Dental Education journey. Following completion of the four-year Dental program in Edmonton, my future wife Robin and I had two wonderful experiences working in Cranbrook and Williams Lake over the next four years. Once again, my desire to pursue further studies drew me back to Edmonton and in 2001, I completed the Postgraduate Orthodontics Masters program. During the program, I was awarded the Province of Alberta Graduate Scholarship for clinical, academic, and research excellence and had several publications in international orthodontic journals.

Dr. Shawn and I co-founded Signature Orthodontics in 2006 and were thrilled to have Dr. Dolly join us in 2017. Looking back, taking that leap of faith all those years go and deciding to become and Orthodontist was worth every moment, because I am passionate about making a difference in our patients' lives. I honestly feel there is no better career than creating beautiful smiles. Working side by side with a committed and professional group of individuals we call our "Signature Family" and making a lifetime of memories is what it is all about!
I am also blessed to be supported by my wonderful wife Robin (a horticulturist) who has stood beside me during this often challenging but always interesting journey. Our two active adult children, Chole and Max, ensure we are continually kept busy and engaged. When time allows, we enjoy time together wand our varied interest include all watersports, hiking, cycling, skiing (downhill, cross-country, and back country), gardening, reading, and travelling to new destinations.

Favorite Food: Greek or Vietnamese
Favorite Movie: Forrest Gump
Favorite Board Game: Monopoly
Favorite Sport: Swimming
Famous/inspirational figure you admire? Astronaut Chris Hadfield and Nelson Mandela
Most memorable Trip: Cycling/camping through Europe with high school friends in the late 1980's.

request an exam