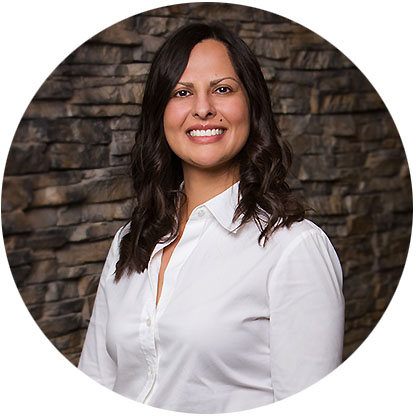 Dr. Dolly Bharwani
Hello from Signature Orthodontics! A little bit about me, I am a local girl, born and raised in Edmonton. After finishing grade 12 at Ross Sheppard High School (some of you probably go/went there too), I went to the University of Alberta where I obtained my degree in Dentistry. And this is where I met Dr. Ian and Dr. Shawn, over 20 years ago! Next came 2 years of post-graduate residency in Rochester NY followed by 3 years at the University of Western Ontario in London where I completed my Master's degree in Orthodontics.

After studying across Canada and the USA, I chose Vancouver as the city I wanted to live in. My office was located just outside of downtown and I enjoyed treating my patients there for 5 years. I even had the privilege of treating a couple Hollywood celebrities – ask me who next time you come into the office! But despite the beauty, urban city life, and of course the mild weather of Vancouver, Edmonton is and always will be where my heart belongs. I missed my family and friends, so I decided to move back to my hometown and am extremely happy to join the team at Signature Orthodontics.

In addition to Signature Orthodontics, I have continued to practice in BC a few days per month in the town of Prince George. I am a board-certified specialist in Orthodontics, fellow of the Royal College of Dentists of Canada and a member in good standing of the Canadian Association of Orthodontists and Alberta Society of Orthodontists.
So what do I do in my spare time,… my favorite past time is spending time with the special man in my life, Craig; we love traveling, cooking (or attempting to cook, we are both terrible cooks but never give up) and indulging in the occasional Dateline mystery. I also enjoy pilates, playing in the Edmonton Women's Ball Hockey League and shopping, especially for shoes!

Personal chef or personal butler? Personal chef please – I'm a terrible cook but don't mind cleaning bathrooms 😉
If you could fly anywhere in the world for lunch, where would you go? Ooo somewhere in Italy – could I stay longer? Maybe the whole day? Week? Year?
Chips or Chocolate? Always CHOCOLATE!!!
No phone access for one year or no car access? If I could get rid of my phone for a year, that would be awesome!
Aisle seat or window seat of a plane? Window
If you could meet one person, living or dead, who would that person be? Hmmm that's tough, I seriously can't think of anyone – is that bad?

request an exam